Rising share of first-time buyers as investor buyers retreat
The negative economic impact of social distancing measures has shifted the mix of home buyers. Investor buyers have retreated, while the share of first-time buyers has increased. The share of first-time buyers rose to 36% in April 2020, up from 32% one year ago.
Meanwhile, sales for investment rental or vacation use declined to 10%. The share of purchases for investment rental dropped from 11% in February to 6% in April 2020.
With fewer investor buyers, cash sales decreased to 15% of existing home purchases, down from 20% one year ago.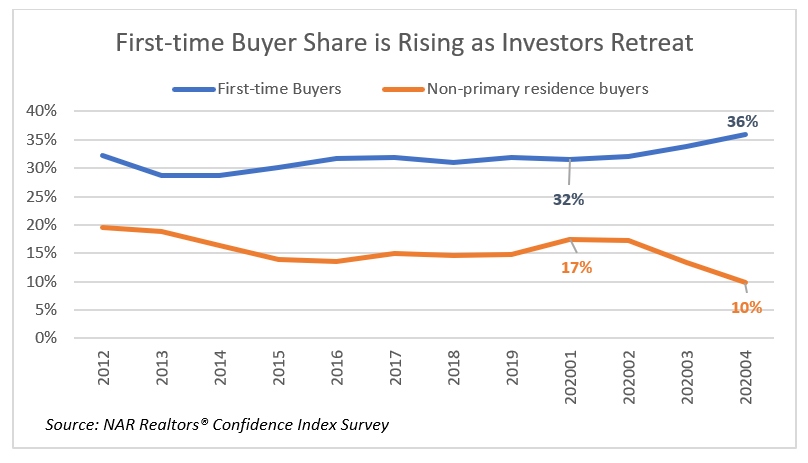 Home buyers are facing less competition from investors, and they are also benefiting from low mortgage rates. In April 2020, the 30-year fixed mortgage rate fell to a record low of 3.3%. The estimated monthly mortgage payment on a home purchased at the median price of $286,800 with a 10% down payment on a 30-year fixed loan1 was $1,131, just $90 more than the median rent of 1,041 (as of 2020 Q1).
What might explain why potential investor buyers are staying on the sidelines? One plausible reason is the expectation of greater financial risk associated with renters. The social distancing measures have hit hard certain occupational groups?food service/ hospitality/recreation workers and retail trade workers. These occupation groups are more likely to rent compared to other groups. In 2020 Q1, the national US home ownership rate of 65.3%, while only 51% of food service workers were homeowners.2
Will investors purchase many single-family properties as they did during the Great Recession? Not likely because during the Great Recession, there was a wave of foreclosures and the properties were purchase by investors. In the current health and economic crisis, properties are not being foreclosed, though 8% of mortgages, or 4 million properties, are under forbearance. FHFA announced last May 13 a payment deferral option that allows home buyers to pay off the missed payments when the house is sold, refinanced, or at the end of the loan term, making the current mortgage payment to remain affordable.
*this information is a piece of an article taken from the National Association of Realtors website (nar.realtor/blogs)